More ways Hyde Park House are looking to help you

As supplies are in demand, we have been working hard from the start to source cleaning products, gloves, sanitisers etc so we can keep running a safe environment. We can help you if you are struggling to get hold of supplies to keep your office a clean safe environment.
---
Sanitising bottle
We have sourced a supply of sanitiser & can supply bottles & pumps also. Please note we will have to limit the amount to make it fair for all tenants – 1 per single office, 2 per double office
250ml bottle & pump £3.50+VAT
Refills of 250ml – £2.50+VAT
Antibacterial Cleaning Pack
It is extremely hard to source anti-bacterial wipes we will continue to keep trying. We are putting together a cleaning pack which contains 1 x bottle of antibacterial spray (750ml) & 100 pack of jay cloths (Price to be worked out) 1 pack per single office, 2 x packs per double office – £8.49*+VAT *subject to change
Gloves
At the moment we still have a supplier for latex gloves medium & large – £4.85*+Vat *subject to change
---
PPS Personal Protection Screens
We have been looking how tenants will be able to operate in their offices and still maintain the requirements for social distancing. When you consider most desk, positions are face to face therefore the seated position is approximately 1.8m apart. Should you like to provide your staff with additional protection we can make available Perspex screens that are hung from the ceiling between each workstation. This fisical barrier would help with the infection control by preventing "pathogens" (water droplets/infections agent) being spread across the desk top.
The Perspex sheeting is very hard to purchase as the country is using it as a main provider of protection in offices, shops etc.
The cost of providing and fitting the screens are £67.00* net cost this is based on the information we have at present as the supply/cost from the suppliers is fluid at the moment. * price subject to change
Should you wish to discuss the PPS please contact Vicky the Business Centre Manager as soon as possible as stocks are limited and we will be operating on a first come first served basis. (See picture of screen as fitted)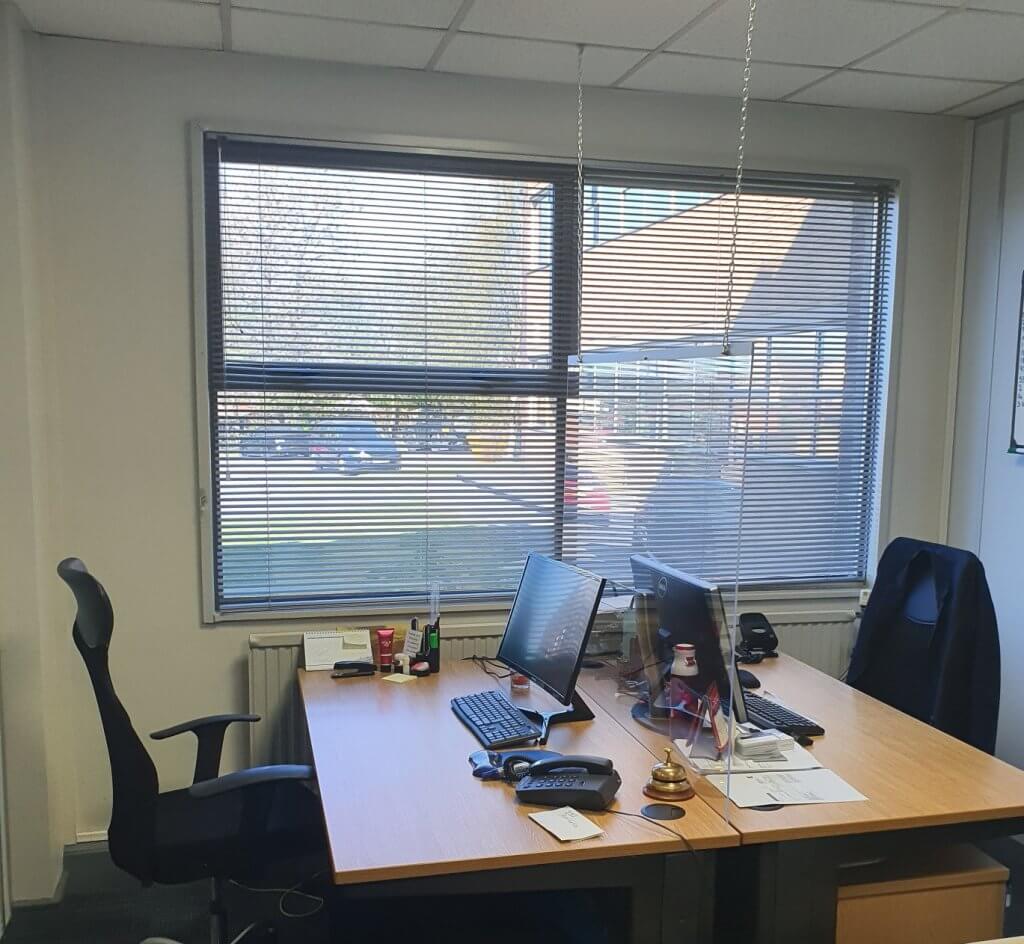 ---
---