Working With Covid-19
Updated 15.06.2020
We are all going to have to live/work with COVID-19 and social distancing being the new norm for the foreseeable future or at least until a vaccine is available for all.
With this in mind, we have been working hard throughout the lockdown period to bring in procedures to help Hyde Park House be one of the safest business environment to work from.
We appreciate that you and your staff will be worried about returning to work and mixing with colleagues and other members of the business community. We have put the following safety measures in place to help reduce your anxieties and help keep you safe.
---
What We Have Implemented to Keep You Safe
Access to the building
Sanitising stations are located at both entrances to the building, any people coming into the building to sanitize hands upon entry.
Sanitising Stations
These have been placed in various locations for the use of tenants and visitors.
Locations of the sanitizing stations are;
Entrance Lobby
Lower Ground Floor entrance
One on each landing in the South Wing
One on each landing in the North Wing
Outside the lift to each floor
Entrance to the Coffee Lounge
Hyde Park House staff will ensure that the sanitizing stations are kept clean & stocked with sanitizing solutions and paper wipes.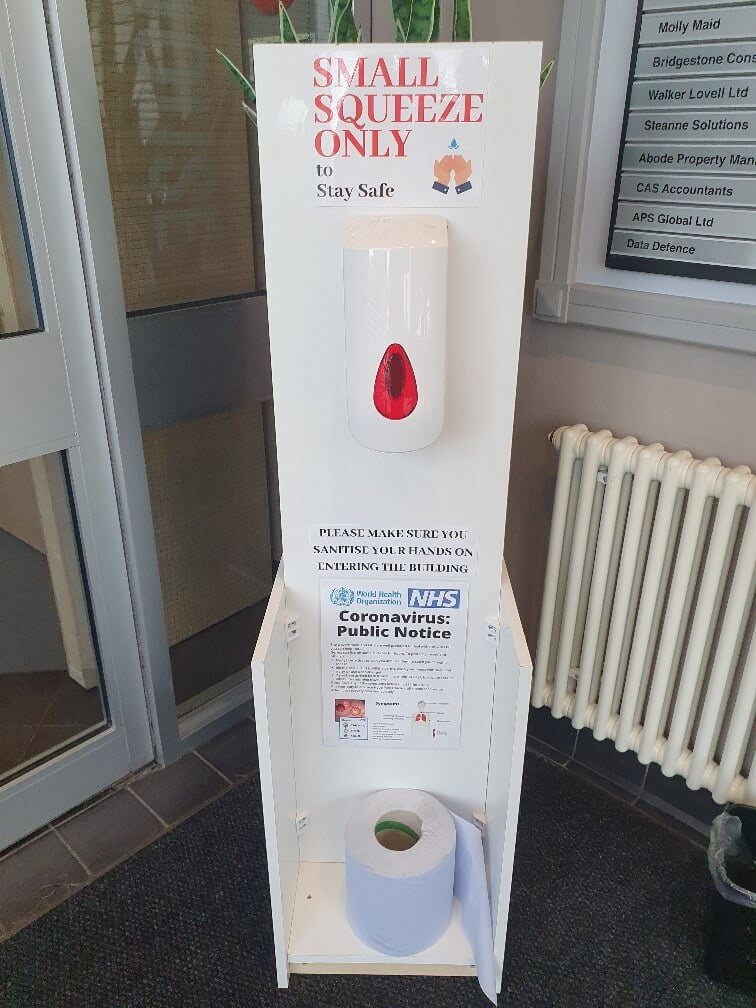 Social Distancing
We have implemented ways of helping everyone maintain the required social distancing within Hyde Park House.
Social distancing floor stickers in place in Reception areas, Meeting Rooms, Coffee Lounge
A one in one out policy when using the lift, toilet & kitchen facilities
When transitioning in the corridors, use the clearly marked Passing Zones to reduce face to face contact.
Personal Protection Screens & one-way system within the meeting rooms.
Cleaning
Extra cleaning is being done throughout the day of all common areas, kitchens & toilets. A full sanitising is in place of handrails, door handles, taps, lift buttons, microwave handles & buttons, soap dispensers, office door handles, push plates etc. All offices are cleaned as per normal at the end of each working day, this will include wiping desktops & work surfaces with antibacterial spray or wipes.
Clinical Bins
Clinical bins provided throughout the building & within each office this is for the disposal of used gloves, tissues, anti-bacterial wipes, face masks. The clinical bins are emptied regularly, and waste disposed of safely. This is for infection control within the building.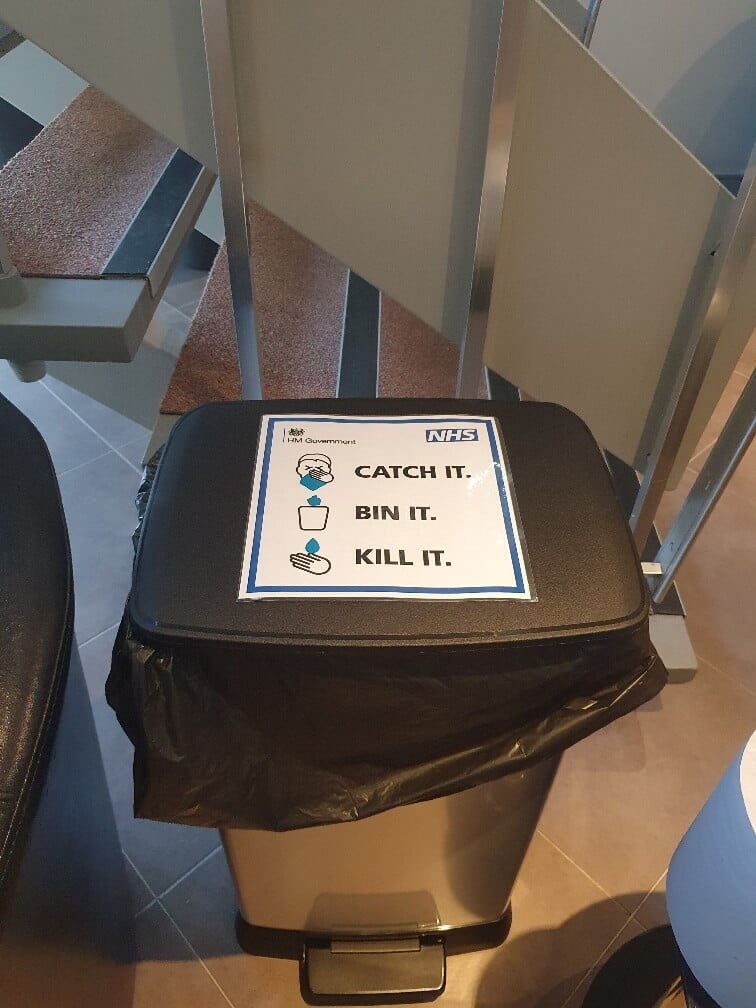 Reception
Our Reception area has been fitted with Personal Protective Screens (PPS) to avoid face to face contact. The Reception staff will still carry out all the usual services, with yours and their safety in mind.
Deliveries
To prevent delivery drivers walking around the building we have a designated parcel drop off point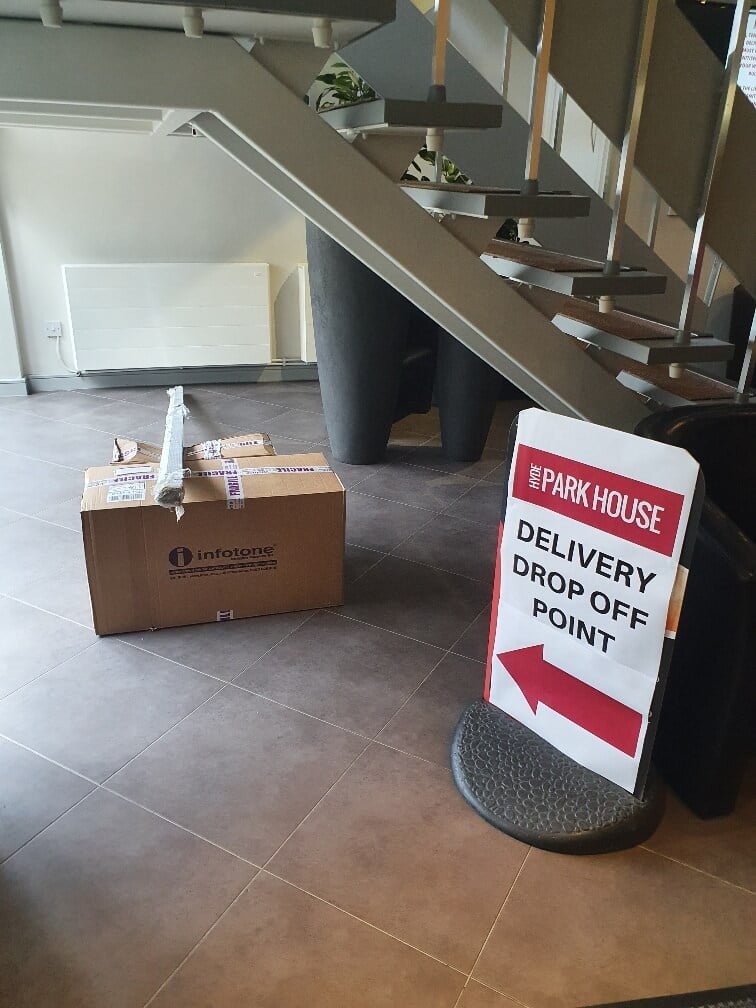 Meeting Rooms
We understand that tenants and visitors will still need to have face to face meetings with staff or clients, with this in mind we have put the following procedures in place.
Reduced the number of seating positions in each of the meeting rooms (maximum is now 6 persons)
Installed (PPS) Personal Protection Screens to divide the table/seated positions to help maintain the all-important social distancing.
Sanitising bottles situated at each seating position.
We will still be offering refreshments but to avoid the personal contact between tenant/visitors and the Hyde Park House staff the cups will be pre-loaded with tea/coffee & sugar in sealed plastic bags. There after each person would be asked to dispense their own hot water etc.
After each meeting has taken place the room will be cleared, the tables & chair arms will be cleaned/sanitized so you can be assured when you use the meeting room it is safe to do so.
Hyde Park House Staff
All Hyde Park House staff do a temperature check before the start of their shift & confirm they are fit & well to work with no COVID-19 symptoms.
The Coffee Lounge
We are following all Government Guidelines and will re-open The Coffee Lounge when it is safe to do so.
Door Closers
We have removed door closers to all toilets – this is so you do not have to touch the door handles when leaving the toilets.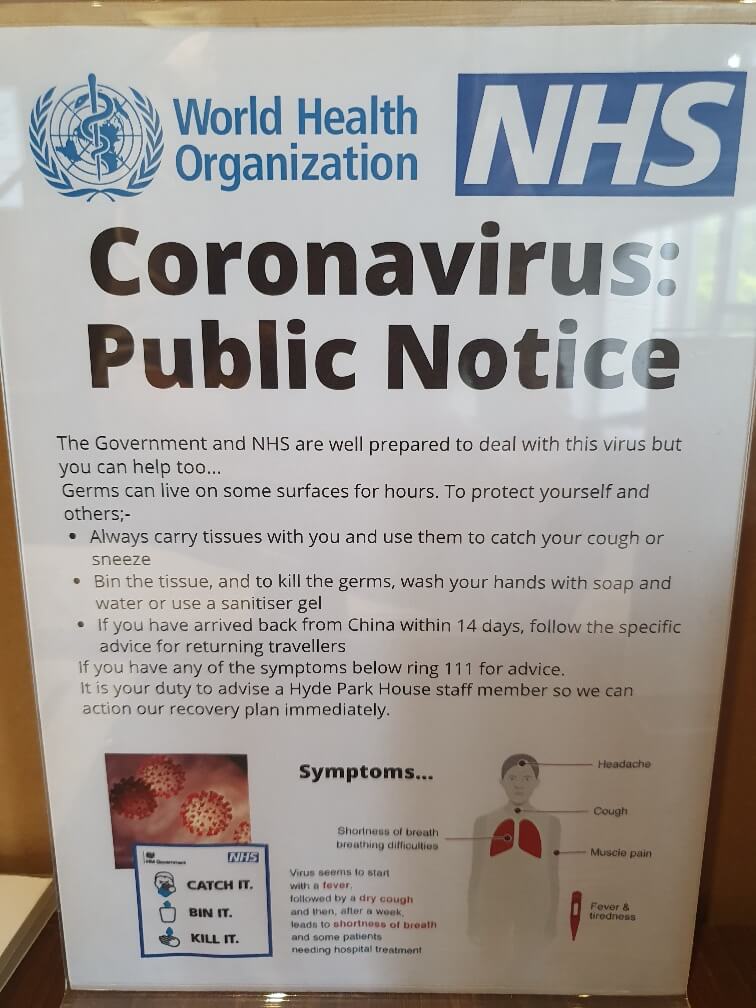 ---
---