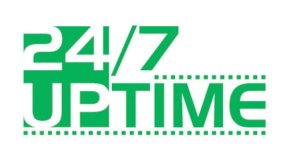 24/7 Uptime specialises in fault tolerant industrial hardware & software solutions. We are leading high availability specialists & experts in Stratus everRun software/ftServer hardware, which keep critical systems up and running 24/7. Clients rely on us to prevent application downtime, eliminate data loss and reduce operational costs. This avoids lost productivity, lost profits and damaged reputation.
247host is our high availability hosting solution for web sites and online servers, using the latest in high availability technology in a hosted data centre environment. Available on a monthly subscription basis, this extends high availability resilience to online environments.
Replicate Data is our simple and cost effective offsite data backup solution. How much data would you lose in a disaster? The success of your business relies on first class backup and, most importantly, a simple data recovery process when you need it.
Replicate Retina is a specialist offsite data backup solution for optometrists and opticians. Replicate Retina protects digital retina imaging systems such as Topcon, Eyecap and Birminghan Optical; OCT scans; front-of-house booking systems, patient information and general practice data such as Microsoft Office, Sage and QuickBook accounts.